American truck simulator mods / Others
Frosty Winter Weather Mod v3.0 (1.39.x)
December 6, 2020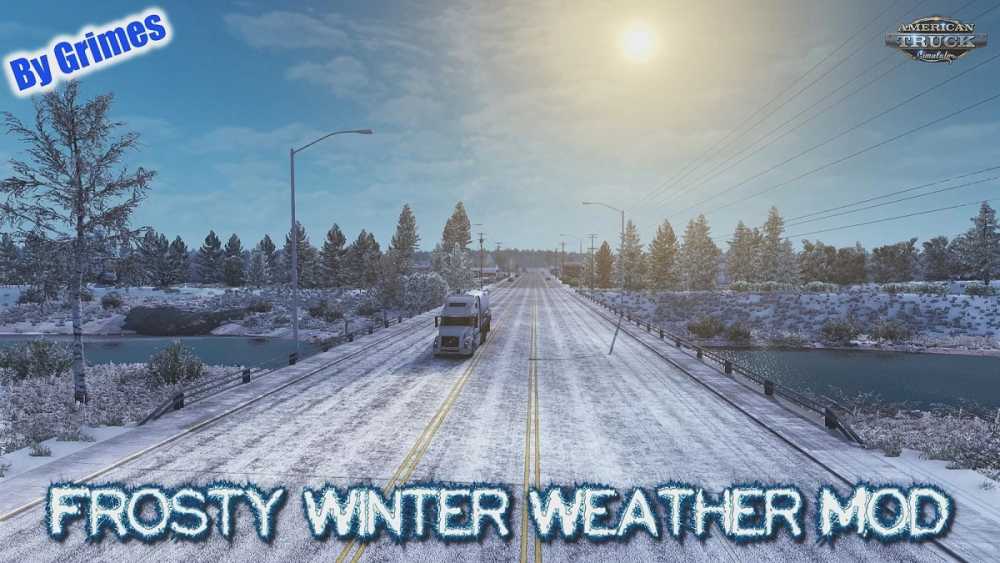 DESCRIPTION
Frosty Winter Weather Mod – The modification simulates winter in the world of American Truck Simulator. Frosty Winter Weather Mod completely changes the nature and roads in the game to snow-covered. The best winter implementation for this simulator.
Features Frosty Winter Weather Mod:
– Winter weather and environment
– Snow/Sleet instead of rain
– More sky textures
– Frosty road textures
– Winter daylight hours and temperatures
– Random cloudy, misty and sunny weather
– HDR bloom reduced
– Heavy Winter, Physics and other addons available for download
Changes in v3.0:
– Updated for 1.39
– Updated for Colorado DLC
– Improved colour saturation
– Weather improvements
– Skybox improvements
– Improved foggy and snowy weather
– Vegetation improvements
– Other fixes and improvements
Important!!
Frosty is a weather and graphics mod so other weather, HDR and environmental graphics mods should be disabled. Frosty should be given a HIGH priority in Mod Manager.
Recommended Settings
HDR: Enabled
Color Correction: Enabled
Vegetation Detail: High
Grass Density: High
Authors:
Grimes