American truck simulator mods / Others
Realistic Truck Physics Mod v8.0 by Frkn64 [1.40.x]
May 1, 2021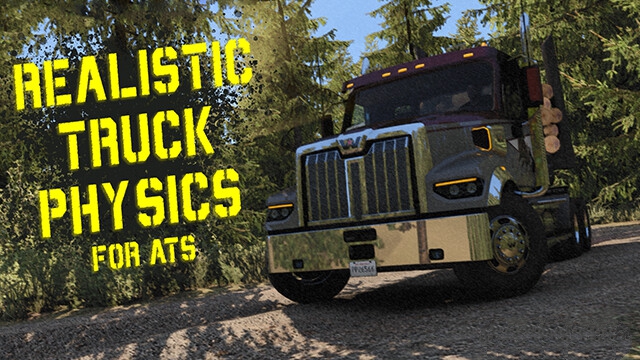 DESCRIPTION
This mod improves truck physics for more realistic driving feeling.
– Realistic suspension springing
– Realistic cab shaking
– Realistic braking simulation
– Adapted Active Roll Control(ARC) system
– Improved interior camera movements
– Compatible with current ATS trucks.
CAUTION: This mod is designed for bonneted trucks and may not work properly with cabover truck mods.
* Required configurations must be applied for this mod to work properly. Configurations are available at our website.
Officially supported truck mods:
– All truck mods made by GTM Team
– Kenworth K100-E by Overfloater
– International LT by Galimim
———————————-
UPDATE NOTES
Update 8.0 is out. Changelog:
– Added support for 1.40 update.
– Physics completely reworked.
– Updated required configurations.
– The version of the mod has been synchronized with the ETS 2 version to avoid possible confusion.
———————————-
SUPPORTED GAME VERSION
v1.40.X
Authors:
Frkn64