Euro truck simulator 2 mods / Bus
AMERICAN IMPROVED TRAINS IN ETS2 V3.7
April 5, 2021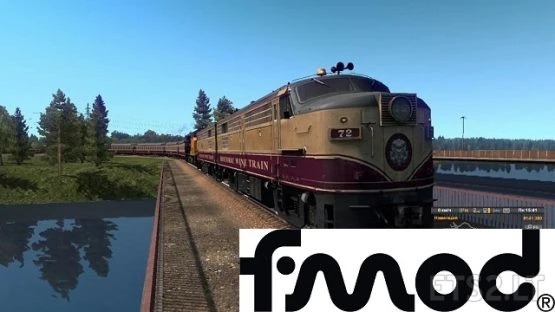 DESCRIPTION
This Mod adding in ETS2 a More realistic American Trains based by ATS PIVA train mod.
With improved Sounds by Cipinho, TruckerKid and Drive Safely.
+ my Exclusive content.
This mod do not replaced European Trains, only add new from America.
Changes in version 3.7 for ETS2 (v1.40): Add more new content from ATS mod
Attention!
Please place this mod BELOW than Traffic Density mod in manager.
This mod must be placed above any other third party mods that affect the trains, except for my own addons and graphic mods that change the skins or appearance of trains.
This mod verion does not support versions of game older than (1.39).
The presence or absence of any DLC does not affect the mod.
Adaptation for ETS2: POWE®FULL.
I'M VERY THANKFUL OF THE AUTHORS for all these work!
PayPal for Donations https://paypal.me/powerfullmodding​​
WM E066523113525
WM Z182435256071
Enjoy it and Have Fun!
Authors:
3D modelling: SCS, PIVA, AlexeyP, POWE®FULL and other.
Sounds: SCS, Cipinho, TruckerKid, Drive Safely.
Sounds FMOD convertation: POWE®FULL
Skins: SCS, PIVA, Grimes, Eddie Yantz, POWE®FULL.
Adaptation for ETS2: POWE®FULL.