Euro truck simulator 2 mods / Sounds
CUMMINS M11 ENGINES SOUND MOD V3.1 REMASTERED 1.42
October 18, 2021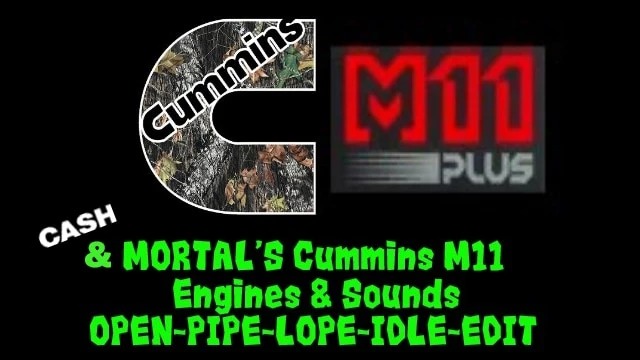 DESCRIPTION
MORTAL'S Cummins M11 engine sound mod Completely Remastered.
WORKS WITH GAME V1.39 & UP. Works in Convoy mode
WORKS WITH ALL ATS & ETS2 TRUCKS AND OVER 50+ MOD TRUCKS
NOTES:
-Put at the top of your trucks in mod list
-Engines all Cost $14200
-Dont ask if a truck works with it try it and If you don't see it for your truck let me know and I'll add it!
*****!!!!!REDLINE IT FOR TWO-STEP TYPE EFFECT!!!!!*****
ENGINES SPECS ARE:
-Cummins M11 Custom & Lope 500HP (AKA Do It For Dale)
500HP
2420FT
-Cummins M11 Custom & Lope 1000HP (AKA SEND-IT!!)
1000HP
3420FT
-Cummins M11 Custom & Lope 1420HP (AKA I RUN ON FREEDOM!!)
1420HP
4200FT
BIG THANKS TO @JOHNNY_CASH & DAVID FOR HELPING UPDATE THIS MOD!!!
If you would like to make a donation to buy them boys a beer :
https://www.paypal.com/cgi-bin/webscr?cmd=_s-xclick&hosted_button_id=LMER7JRFWLUKC
Extended Credits To: Kriechbaum / SCS
(used some sounds from their packs)
Authors:
MORTALMJC420