Farming simulator 2019 mods / Maps
FS19 SETTLED LANDS ALPINE EXTREME MULTI FRUIT PRODUCTION V1.0.0.0
November 22, 2021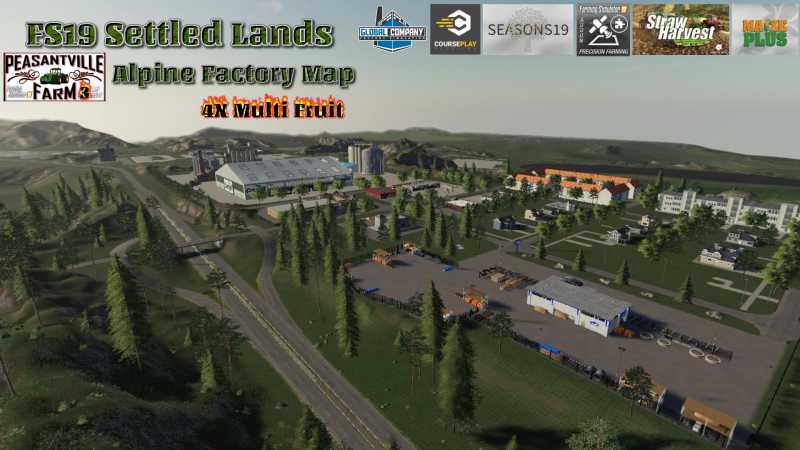 DESCRIPTION
Peasantville 3 "Settled Lands" is an Extreme elevation mountain 4x Multi fruit map, 40 meters above sea level to maximum map height elevation, many factories, 4 pre built farms, 2 town, 1 large city, large underground, With working train
Factories, Farms etc must be purchased, they will act as decoration, will not cost any money until purchased!
Large HP tractors & trucks etc to help with elevations, (more realistic speeds on elevations)
Global Company Silo with Corn Dryers built into the map, plus other mods for custom functions.
Medium to large fields, large areas to build your own farms, create your own fields etc.
Map is 90% complete, final in approx 30 days
Compatible Addons
Seasons
Precision Farming (all fruits)
Maize Plus
Straw Harvest (does not work with Maize plus together)
Course Play (courses included)
AutoDrive (courses included)
FollowMe
Fields Multi Angle with custom textures (easy to add your own)
Field 1 (field001) : 3.009 ha
Field 2 (field002) : 6.641 ha
Field 3 (field003) : 15.253 ha
Field 4 (field004) : 0.415 ha
Field 5 (field005) : 44.383 ha
Field 6 (field006) : 0.821 ha
Field 7 (field007) : 45.048 ha
Field 8 (field008) : 22.389 ha
Field 9 (field009) : 11.274 ha
Field 10 (field010) : 7.179 ha
Field 11 (field011) : 37.798 ha
Field 12 (field012) : 69.523 ha
Field 13 (field013) : 3.421 ha
Field 14 (field014) : 4.538 ha
Field 15 (field015) : 26.161 ha
Field 16 (field016) : 13.085 ha
Field 17 (field017) : 8.937 ha
If you dont buy the land, you dont own the factory or farm etc, and will be a decoration until you purchase the land.
Silage extreme map, grasses galore, perfect multi player map,
Extra fruits
alfalfa, clover, onion, carrot, horse grass, pasture grass, field grass, crop windrow, triticale, rye, spelt, miscanthus, soybean straw, dry corn, corn stalk, crude oil, anhydrous, propane
Can choose regular game play for grasses or extended (modded mowers and pickups). Extended grasses can also be used for all animal husbandry.
Regular game play
Grass, then tedder to hay, (clover, alfalfa, horse grass, grass)
Extended game play (modded mowers included)
Grass, tedder to wetgrass,tedder again to semi dry,tedder again then hay (clover, alfalfa, horse grass, grass)
Includes Krone BigM500
Map includes
alfalfa and clover bunker silo to make alfalfa and clover silage using a silage bunker.
Custom balers, tractors, trucks and trailers etc. (Krone John Deere etc)
The forage harvester can be used to harvest and load all grasses without changing to chaff ( modded headers, mowers etc included in map)
This same function can be used with all the grasses, alfalfa, clover. (pasture grass and field crop is a harvested crop, using the forage harvester)
New Farmer Mode
Start with the large Cow Farm with a good selection of start equipment with everything needed to start (Krone & John Deere), with lands that have no pre-made fields. The fields do not need trees cleared, plow your own fields.
4 pre built farms
Large Cow Farm – S19_CowHusbandry
Chicken Farm – FS19_Modern_ChickenShed
Sheep Farm – FS19_sheepfold_v2
Large Pig Farm – FS19_Modern_Pig_Shed
Factories included
Carton, Chips, ColzaOil, Flour, Cheese, Meat, Salt, Sausage, Tissue, Whiskey, Fish, Clothes, Cookies, Popcorn, Ketchup, Hamburger, Sugar
Map and required files with readme included (must unzip file)
Will only release 2 version of FS19 SettledLands Beta and Final
Install Instructions
FS19_SettledLands.zip (add map to mods folder)
https://mods.to/dt98ejvorwsj/FS19_SettledLands.zip.html
UNZIP each of the following and add the .zip files to mod folder
SettledLands_required mods_UNZIPME
https://mods.to/dmil3p9wqbse/SettledLands_required_mods_UNZIPME.zip.html
SettledLands_required mods_2_UNZIPME
https://mods.to/kvuhiomtrr4u/SettledLands_required_mods_2_UNZIPME.zip.html
SettledLands_vehicles_UNZIPME
https://mods.to/hpizxr4h44lf/SettledLands_vehicles_UNZIPME.zip.html
the map and required mod files must be used, (must use Global Company)
Optional files
anhydrous- custom mods
balers grasses – special mowers for extended grasses functionality
Vehicles- harvester, trailers and autoload trailers for pallets etc.
xtra- available only from discord
Included
Courseplay file goes into Documents\My Games\FarmingSimulator2019
AutoDrive course add to the savegame your playing
SettledLands_AD and CP_UNZIPME
https://mods.to/2pk3g3ao5m2x/SettledLands_AD_and_CP_UNZIPME.zip.html
new farmer mode comes with lands and a cool set of start equipement
Please report any issues or errors by using discord https://discord.gg/78wzfkzyMk , no support offered through mod sites.
Authors:
Parzival