Farming simulator 22 mods / Fs22 AddonsFarming simulator 22 mods / Fs22 BuildingsFarming simulator 22 mods / Fs22 CarsFarming simulator 22 mods / Fs22 CombinesFarming simulator 22 mods / Fs22 CuttersFarming simulator 22 mods / Fs22 Forklifts & excavatorsFarming simulator 22 mods / fs22 Implements & ToolsFarming simulator 22 mods / Fs22 MapsFarming simulator 22 mods / FS22 NewsFarming simulator 22 mods / Fs22 ObjectsFarming simulator 22 mods / Fs22 OthersFarming simulator 22 mods / Fs22 PacksFarming simulator 22 mods / Fs22 TexturesFarming simulator 22 mods / Fs22 TractorsFarming simulator 22 mods / Fs22 TrailersFarming simulator 22 mods / Fs22 TrucksFarming simulator 22 mods / Fs22 TutorialsFarming simulator 22 mods / Fs22 Vehicles
Farming Simulator Podcast #4: Farming Simulator 22 – answering questions
November 22, 2021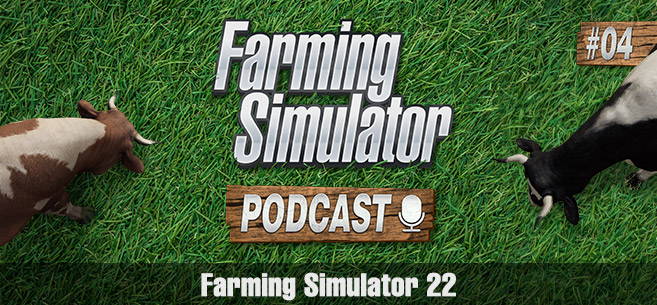 DESCRIPTION
Now you know: Farming Simulator 22 is coming to PC and consoles this year. Read everything in the official announcement. Want to know more? We answer some of your questions: Don't waste time and press play on that player button down there!
The official Farming Simulator Podcast is also on Spotify, Apple Music and many other platforms. Check it out and subscribe, so you don't miss a single episode!
That's our Podcast!
Around every two weeks, we'll discuss themes and topics relevant to our fans. Community Manager Lars aka Lisertan and both of our Community Coordinators Chris aka Chaki and Elany talk about the most important news from Farming Simulator and GIANTS Software. That's not all of course! We'll have guests on, too! Don't think of the podcast as a simple news source. Think about it as a way to get deeper into the latest topics and hear more about right from the source.
Give us your feedback, please!
The main reason why we introduce the Farming Simulator Podcast, is to get one more step closer to you, our community. You can also expect to get some questions answered. We always keep our eyes open in all places to look out what's going on. Whether on the Official Forums, Facebook, Twitter or Instagram and Discord. With the podcast, feel free to shoot your questions directly for the purpose of getting answered into a polished and shiny microphone!
Feedback and questions can be mailed directly to [email protected]
Authors: