Farming Simulator 22 Mods – Download & Upgrade Your Game Today
As one of the most realistic and immersive farming simulators available, Farming Simulator 22 (FS22) offers players a vast and exciting world to explore. Whether you enjoy managing a world-class farm or simply relaxing in the virtual great outdoors, FS22 is a game that can keep you engaged for hours. To enhance your experience even further, you can download Farming Simulator 22 mods for PC to add more depth and excitement to your gameplay.
Get the Best FS22 Mods from Gamersmods
Gamersmods is your one-stop-shop for all things FS22. With a vast and unique library of FS22 mods, implements, tools, tractors, and trailers, you can revolutionize the way you play this game. From completely new mods that offer an entirely unique experience to mods that have already been downloaded and used by thousands of players around the world, Gamersmods has it all.
Say goodbye to monotony and break free from the restrictions of the base list of vehicles and items in the game. Download FS22 mods from Gamersmods and expand your horizons with more capable machinery, improved AI, higher-resolution textures, and even entire packs of mods that change categories of items and objects in the game. All FS22 mods on Gamersmods are completely free and available to download without any extra cost. If you appreciate the mod, be sure to show your support by leaving a five-star review or a kind comment in the comments section.
Benefits of Using FS22 Mods
FS22 mods offer a multitude of benefits that can help you get the most out of your gameplay. Whether you're looking to enhance the graphics of your game or add new features, mods can help you achieve your goals. For example, you can use mods to improve the realism of your farming experience, adding more detail to your equipment and crops. You can also add new animals and crops to your farm, making your experience even more diverse and exciting. With FS22 mods, you have the power to transform your gameplay experience.
Installing FS22 Mods Safely and Effectively
Installing FS22 mods can seem intimidating at first, but with a few simple steps, you can have your new mods up and running in no time. Gamersmods provides a comprehensive FAQ section and technical support to help you with the installation process. Whether you're a seasoned veteran or new to modding, you'll find the information you need to get started.
Final Thoughts
In conclusion, if you're looking to take your Farming Simulator 22 experience to the next level, be sure to check out Gamersmods. With a vast library of mods, you'll find everything you need to enhance your gameplay. Whether you're looking for improved graphics, new features, or more realistic equipment, FS22 mods offer something for everyone. So why wait? Download your FS22 mods today and start playing!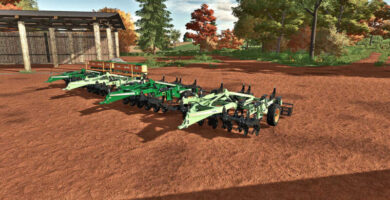 Stara Fox 11 is a cultivator that also allows you to plant radish, grass and canola.
– Price: 24000 $
– Power: 130 hp
– Working width: 3.66m
– Seed capacity: 680 l
Changelog 1.1.0.0:
-Correction of failure when starting the seeder
-Correction of specifications
John FM Modding
Farming simulator 22 mods / fs22 Implements & Tools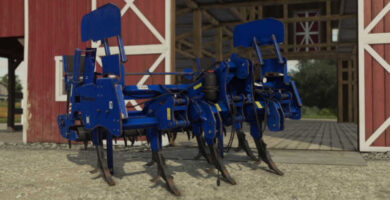 The U624 chisel plough from the Polish company Rolmako was designed to improve soil structure by properly loosening the soil.
It is equipped with 7 hydraulically secured feet and a double spike roller. By cultivating at maximum speed, the machine allows large volumes to be covered in less time.
This subsoiler is therefore an ideal replacement for the traditional plough.
Price: 14500 $
Max. working speed: 12 km/h
Power requirement: 175 km
Working width: 3.0 m
*Configurations:
-Beam with lights
-Side shields
*Setting of working depth (mouse control)
*Setting the height of the finishing rollers (mouse control)
*Additional features:
[ANIMATED HANDS – randomly moving]
[ANIMATED SIDE SHIELDS – adjust to the ground]
Changelog 1.0.0.1:
-Rear reflectors improved
JMZ
Farming simulator 22 mods / fs22 Implements & Tools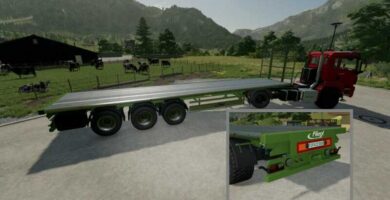 Price: 28.000 $
Category: Bale Loaders
Slots: 11
Features:
– Autoload for round (125-180cm, 22-34 bales) or square (180-240cm, 16-42 bales) bales.
– Autoload for pallets (3x 20,000 – 3x 30,000 Liter; all palettes that are set up by default)
– Ppallets autoload Platinum and Premium Expansion ready
– Different working modes for bale and pallet autoload
– Choice of colours for rims, semitrailer and flatbed
– Fliegl logo (rear) selectable in white, red and black
– Rear trailer hitch
– Number plate
– Sounds when attaching and deattaching the trailer
– Tyres (Continental, Trelleborg, Michelin, BKT, Vredestein)
– Supports Hesston Bales of the Hesston Balers mod
– Supports "Selectable Bale Capacity Pack" mod
– Supports "Universal Autoload" mod in autoload configuration "standard"(PC/MAC only)
Function:
Bales: First bring the trailer into the working position, the bales can now be collected. After collecting, return the trailer to the transport position.
To unload, select the unloading place via the unloading mode and unload the bales. After unloading, stop the unloading process.
If the bales are unloaded onto the platform, they can then also be moved manually e.g. by a front loader.
With the working mode, the autoload can be set to either collect the bales from the field or to put them onto the platform before the autoload collects them.
Pallets: There are several loading areas to load different pallets. Each loading area has its own marked loading zone. This marking can be switched on and off.
The loading zone trigger can be adjusted in height to detect the different unloading triggers of the pallets.
Loading starts automatically when a pallet is detected in the loading zone or loading can be started manually for each pallet individually.
With the work mode, the autoload can be set whether the pallets are detected next to the trailer or have to be brought over the platform.
Notes:
The bales can be unloaded to the side and to the rear and rotated in all directions. If in working or transport mode the bales are shifted on the platform, changing the mode is sufficient to correct the position.
Autoload only works if this is configured in the garage. For the "Universal Autoload" mod, please select "Standard" as the autoload configuration.
If the trailer is configured with bales in autoload mode, these are then "locked" for further processing. Simply unload the bales onto the trailer, configure again and the bales can be used again. The same also works if the bales get "stuck" after loading a savegame.
Changelog:
1.0.3.0:
– Extended support for more bale sizes from the supported mods
– Added Sounds when attaching and deattaching
– Added pallet autoload
– Removed dynamicMountAttacher
– Fixed HUD icons
1.0.2.0:
– Added variant with smaller load area
– Added Steering axle
– Revised tension belt position
– Revised bale position and capacities
– Other vehicles and equipment now spawn closer to the trailer at the vehicle dealer
– Added autoload working mode (size of bale trigger)
– Number plate position is now dependent on the trailer hitch
– Bale capacity selection removed (is now automatically set) (*)
– Added support for "Selectable Bale Capacity Pack" mod
– Added support for "Universal Autoload" mod (PC/MAC only)
Notes:
(*) Depending on the selected configuration, the trailer needs to be reconfigured once.
1.0.1.0:
– Fixed display of control icons in info help window
– Fixed warning regarding missing setting in the configuration file fixed
– Fixed collision in front
– Fixed issue where AI traffic did not pass the trailer
– Added support for 120cm x 130cm Hesston bales
TopAce888
Farming simulator 22 mods / Fs22 Trailers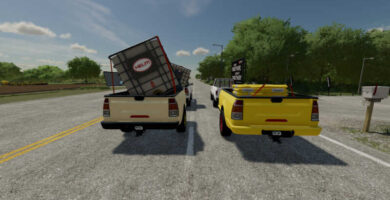 This trailer is designed to transport pallets and bales with the 1986 pickup and 2017 pickup.
Fan
– Price: $4,250
Configurations
– main color
– rim color
– rim selection
– roll bar
Have fun!
Changelog 1.1.0.0:
– Added collision of side panels
– Added license plate
– No underwire is now standard
– New choice of rear bumper between original and color
– Completely new axle and drawbar
MTL Modding Team
Farming simulator 22 mods / Fs22 Trailers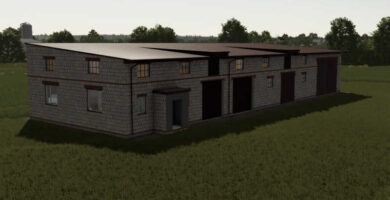 A model inspired by a real building. It is a combination of a garage, a small barn for cows and a silo.
A conveyor belt is required to fill the silo.
I recommend turning on the interactive zone markers to see where the triggers responsible for opening the attic door and the conveyor belt are located.
-Price: 60.000 $
-Living cost: 150 $ per day
-Silo capacity: 80.000 liters
-Capacity of the barn: 12 cows
Attention
-Silo does not support AIDrive functions
Changelog 1.0.0.1:
-Name changed
Mr_Grucha
Farming simulator 22 mods / Fs22 Buildings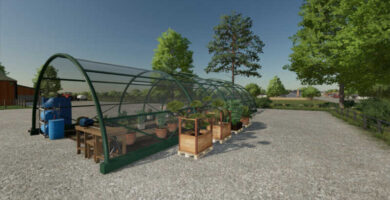 New greenhouse to produce ornamental shrubs: Yew, Boxwood, Agave and Bamboo.
– Inputs: water, manure, seeds and woodchips.
– Price: 15,000 $
– Daily maintenance fee: 100 $
Selling point :
– Price : 1000 $
Changelog 1.0.0.1:
– modified 3D greenhouse.
– Adjusted water trigger.
– Fixed an error on the pallets with the straps.
– Modification of StoreIcon.
– Updated descVersion.
– The snow on the plants has been removed.
– Added productions without wood chips.
– Added "boughtWithFarmland" for greenhouse.
– Other minor fixes.
– Added support for AI delivery for greenhouse.
– Added delivery marker for point of sale.
– Added point of sale logo to the map.
– Added crops to the price list.
VX mapping
Farming simulator 22 mods / Fs22 Buildings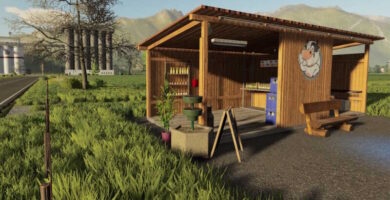 With this pack, you can open your own direct marketing. For this purpose, you can choose between sales houses, of different sizes, as well as vending machines.
Self-marketing means fresh food for customers 24 hours a day and a clear conscience, as they know where the products come from. Freshly stocked, the products are provided to them by the producer without intermediate trade.
For you as producers, this means simple and direct marketing of your own products, which gives you a higher profit but also some additional work.
Depending on which model they choose, they will have different costs and profit opportunities.
The sales houses are available in four different designs:
– Large: potatoes, milk, butter, cheese, eggs, honey, oils, bread
– Small: potatoes, milk, butter, cheese, eggs, honey, tomatoes
– As cultivation: potatoes, flour, milk, butter, cheese, eggs, honey, sugar
– Very large: wheat, potatoes, flour, milk, butter, cheese, eggs, honey, oils, bread, hay
Four variants are offered for vending machines:
– Vending machine: milk, eggs (price: 12.000$)
– A vending machine for milk (price: 15.000$)
– Large milk filling station (price: 25.000$)
– Small milk filling station (price: 11.000$)
– Box for potato sale. (price: 1000$)
For this purpose, three houses in two different sizes are offered as a shelter. (price: 5000$ – 27.500$)
Changelog:
V1.0.1.0
– Very large sales gap now accessible
– Added bale triggers in the large and very large stall to be able to sell straw not only loose.
– Added possibility to rename all stalls. Is especially important in multiplayer in order to be able to assign them clearly
– I have also added the possibility to sell straw and hay at the large stalls.
V1.0.1.1
– Added: Market-Stall for Cheese and Vegetables
– Reworked: Ambient Occlusion for better looking buildings.
– Fixed: houses can no longer be part of a mission. This caused problems in multiplayer
– Fixed: Lightning issues
farmerfivetom
Farming simulator 22 mods / Fs22 Buildings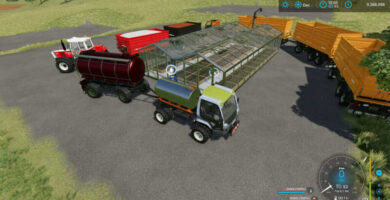 This is the fruit greenhouse where you can produce olives, grapes, tomatoes, lettuce and strawberries without buying expensive machines.
It is possible to transport and store olives, grapes, tomatoes, lettuce and strawberries in bulk.
Info Fruit Greenhouse:
Construction costs: $12,500
Maintenance per day: $50
Fruits required: water, seeds, fertilizer and herbicide
Fruits produced: Olives, grapes, tomatoes, lettuce, strawberries, potatoes and sugar beets
Capacity per fruit: 100,000L – 200,000L
Cycles per hour: 15
Cost per hour: $20
Changelog 1.1.0.0
*Added Olives and Grapes to all Trailers, Wagons, Shovels and the Farm Silo for better transport and storage
*l10 entries adjusted
*Swapped fertilizer for digestate for more uses of digestate
*Added lighting
*Pallets have been expanded so that only bulk material comes out of the greenhouse
Changelog 1.2.0.0
*Replaced fermentation residues with fertilizer at the request of the community
*Adaptation of the recipe for olives and grapes
*Fix minor bugs
*Increased pipe unloading speed from 500 to 650
Changelog 1.3.0.0
*Adding tomatoes, lettuce, and strawberries in bulk by community request
*Added Tomatoes, Lettuce and Strawberries to all Trailers, Wagons, Shovels and the Farm Silo for better transport and storage
*Cycles per hour increased from 10 to 15
*Increased pipe unloading speed from 650 to 750
*adapted to current patch
*Description adapted to the current update
Changelog 1.4.0.0
*Add potatoes and sugar beets at community request
*adapted to current patch
*Description adapted to the current update
MTL Modding Team
Farming simulator 22 mods / Fs22 Buildings