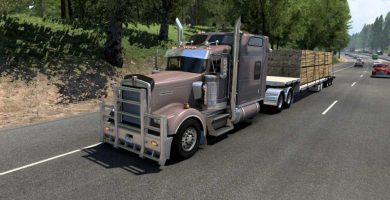 Kenworth W900L – Big Bob 3.6.1 by Kenworth_John 10/2021
Pre-Emission and pre-ELOG version of legendary classic Kenworth W900L.
Version 3.6.1 for ATS 1.42+
by kenworth_john 2021
This mod replaces all former versions.
– improved mirrors at night for better view
– added improved N14 Lope Heavy Haul II engine
– the dashboard literally flooded game log due to some obsolete parameters. fixed.
– added some differential ratios for transmissions. combine 'em w ur favourite engine.
Powerful engines do not always need many gears! try a 690hp w 10/13 gears.
Better sound w lower rpm!
– updated system files due to new sort of reflections by scs
– updated kenworth dealership files
– adjusted air seat ride, carefully
– deleted other obsolete parameters for clean game log.
known issues:
truck works well at highest and ultra graphics, but
– disable SSAO (game options-graphics) when using toolbox+steps or apu+steps
for best viewing experience
– Fake shadows on white cabins are too coarse
– Short: I strongly recommend to install latest SISL's MEGA Pack for best experience.
Long: Truck mod was merged with Mega Pack long time ago. Someone deleted half the files.
Lot's of orphaned files and menu items were left behind. To avoid errors, install latest
version of SiSL'sMEGA Pack to override orphaned files and menu items.
kenworth_john, others, see mod description file
American truck simulator mods / Trucks