ATS news
Extra, Extra! Read all about it!
Here, we will publish important news and updates about the game we all play and love – American Truck Simulator. Even though the game was released by SCS Software back in 2016, it receives continuous updates and gets expansions from time to time. The developers have a lot they want to improve and keep up-to-date with this game. Thus we always have news, rumors and updates to discuss.
You can read the newest and freshest information about ATS and see what the developers are planning for the foreseeable future. You can know when the next big update is coming and what it's going to be about. Maybe you should download the mod for a new truck because SCS is planning to expand the map? Or perhaps you shouldn't hesitate and download an entire map mod because the upcoming patch will only concern sounds and physics – etc.
Whatever the news may be – big or small, we'll have it covered right here. Every trailer, rumor, or update released will likely find its way, along with all relevant links, to the news section, right here on Gamersmods.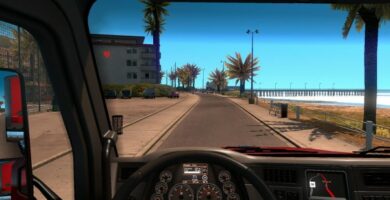 SCS Software decided that it's high time we packed our bags, took our truck driver license together with our favorite windshield toy, and head to the other side of the ocean. After few years of driving on the Old Continent and creating an empire of transportation, the Czech studio is taking us to hot California and equally vast Nevada. The change is quite apparent, and you can actually see it, hear it and feel it. Being a truck driver in the United States is a completely different – and much better – experience.
We learned about the existence of American Truck Simulator a long time ago. Although Euro Truck Simulator series was undoubtedly an amazing phenomenon that attracted thousands of sim lovers and fans of big trucks, many gamers wanted something new that would make them twice as excited to take the steering wheel of the 18-wheeler and roam the highways with more and more expensive cargo. A virtual trip to America is supposed to be that motivating factor and I believe that's the best decision the developers could have made.
PROS:
+ Vast driving area, even though it only covers two states with dense road-net;
+ Much bigger and better developed cities with characteristic buildings;
+ Great realization of traffic regulations;
+ Presence of police;
+ Traffic is smooth, no extortion of the right of way and lack of silly mistakes by the AI-controlled vehicles;
+ Great atmosphere of the United States;
+ Licensed trucks;
+ Really nice visuals and well-polished technical side of the game;
CONS:
– Ticket fines seem to be a bit too high;
– Two trucks to start with is not a lot;
– Similarities to Euro Truck Simulator 2 are a bit too obvious.
More information in GamePressure review: http://www.gamepressure.com/e.asp?ID=501
American truck simulator mods / News