CNC trailers mods
When you're farming, you have to transport a lot of things from one place to another. You need to harvest crops and bring them back to storage, move slurry amongst other things. How do you transport enough cargo on a daily basis? That's right, you need the right trailers for the job. Luckily enough, CNC has a huge modding community that has produced hundreds of different Cattle and Crops trailer mods for the game. You can browse and download any of the mods completely free of charge. So, even if you're not entirely sure that a particular modification will suit your play style, download it still. It's free and you can check it out to see how things work. There is useful information and pictures of the modification in-game, available when you click on it.
In general, trailer mods are used to enhance your gaming experience by providing your machinery with more versatility and giving you, as a farmer, an opportunity to be a lot more productive than you are now. If you're getting tired of grinding with the same tools and you want something that will make playing the simulator a bit more exciting, mods are definitely the way to go. Check out more of them on Gamersmods!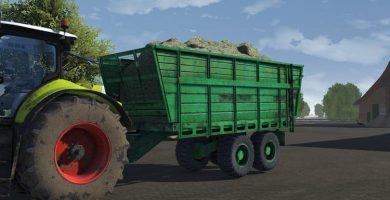 Version 0.4.0.2 -Moved tank trigger, -Resized and moved animation of unloading, -Moved mesh anim and morph_mesh (morph mesh isnt getting behind the wall of the trailer). -Changed fill types, -Removed unnecessary connectors, -Added line in XML file.
–
Cattle and crops mods / Trailers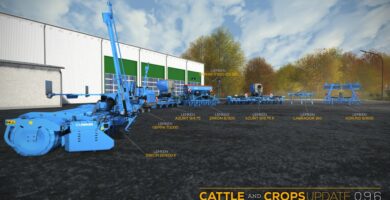 As mentioned last week, here's the little surprise package, in addition to multiple bug fixes and optimizations as part of v0.9.5 (Tombstone) recovery.
4K | Full HD
In this update we're releasing an eight-part field work package with Lemken machines. This includes power harrows, seedbed combinations as well as grain and maize drill machines. It's completed by a fertilizer tank and a subsoil loosener. The new machinery allows farmers with smaller operations to work more precisely, as we've included a handful of 3m (9 ft 10") machines. There are also 6m (19 ft 8") variants of the same model series included, though, for the larger fields.
4K | Full HD
You'll find a full overview in the change log.
NEW
Lemken Azurit 9/4.75 (3m maize seed drill machine)
NEW
Lemken Azurit 9/8.75 (6m maize seed drill machine, foldable)
NEW
Lemken Gemini 7/1000 (Front liquid fertilizer tank)
NEW
Lemken Korund 8/600 (6m seedbed combination)
NEW
Lemken Labrador 160 (2m subsoil loosener)
NEW
Lemken Saphir 7/300-DS 125 (3m grain seed drill machine)
NEW
Lemken Zirkon 8/300 (3m power harrow)
NEW
Lemken Zirkon 12/600 K (6m power harrow, foldable)
BUG FIX
Shop images can be generated again and are no longer just gray
BUG FIX
NPCs in the village no longer have the wrong shading. General Shading problems with scaled models fixed
BUG FIX
Field information panels for swath are displayed again in front of the swath
BUG FIX
Oily graphics on Linux systems was fixed
BUG FIX
Fixed crash when selecting a dropdown during loading/unloading and leaving the trigger
BUG FIX
Fixed crash when trying to load without selecting the fill type first
BUG FIX
The "Washing" window is no longer visible after loading a savegame
BUG FIX
The factions in the profile menu are now translated
BUG FIX
Crash while loading the MixKing at the farm storage fixed
BUG FIX
Fixed wrong spawn location when account balance is less than the vehicle rental price
BUG FIX
The fence gate at the pasture closes again
BUG FIX
Fixed missing translation strings in Claas Quadrant
BUG FIX
Vehicle Shop: translated descriptions are displayed again
BUG FIX
Joint script methods now always return the correct rotation angle between -180° and 180°
BUG FIX
Pasture fence collision fixed: the cattle should not be able to escape now
BUG FIX
Fixed missing NPC models: no more yellow boxes running around the village
BUG FIX
Shader editor: Parameter dropdown in constants can be selected again
CHANGE
[Performance] Traffic vehicles now execute less code
CHANGE
[Performance] Code optimized for machines (dirt, tire tracks)
CHANGE
Certain console commands now have an additional output in the debug.log (listMachineStates, listPlayerAttributes, listGroundAttributes, listFruitAttributes)
CHANGE
Removed anti-aliasing option from settings menu as MSAA 4x is used, with a custom resolve shader for better quality
CHANGE
The player character has received new textures
NOTE
The new machines have no sounds yet
NOTE
Just like the Hammer seed units, the Saphir 7 also requires a front attachment machine: the Lemken Zirkon 8/300 power harrow. The Azurits can be attached directly to the tractor's three-point linkage.
NOTE
The Lemken Gemini front tank can currently only be used for transport, not as an additional tank with the Dammann Land-Cruiser sprayer
cattle and crops
Cattle and crops mods / Implements & ToolsCattle and crops mods / NewsCattle and crops mods / TractorsCattle and crops mods / Trailers