Farming Simulator 22 Mods – Download & Upgrade Your Game Today
As one of the most realistic and immersive farming simulators available, Farming Simulator 22 (FS22) offers players a vast and exciting world to explore. Whether you enjoy managing a world-class farm or simply relaxing in the virtual great outdoors, FS22 is a game that can keep you engaged for hours. To enhance your experience even further, you can download Farming Simulator 22 mods for PC to add more depth and excitement to your gameplay.
Get the Best FS22 Mods from Gamersmods
Gamersmods is your one-stop-shop for all things FS22. With a vast and unique library of FS22 mods, implements, tools, tractors, and trailers, you can revolutionize the way you play this game. From completely new mods that offer an entirely unique experience to mods that have already been downloaded and used by thousands of players around the world, Gamersmods has it all.
Say goodbye to monotony and break free from the restrictions of the base list of vehicles and items in the game. Download FS22 mods from Gamersmods and expand your horizons with more capable machinery, improved AI, higher-resolution textures, and even entire packs of mods that change categories of items and objects in the game. All FS22 mods on Gamersmods are completely free and available to download without any extra cost. If you appreciate the mod, be sure to show your support by leaving a five-star review or a kind comment in the comments section.
Benefits of Using FS22 Mods
FS22 mods offer a multitude of benefits that can help you get the most out of your gameplay. Whether you're looking to enhance the graphics of your game or add new features, mods can help you achieve your goals. For example, you can use mods to improve the realism of your farming experience, adding more detail to your equipment and crops. You can also add new animals and crops to your farm, making your experience even more diverse and exciting. With FS22 mods, you have the power to transform your gameplay experience.
Installing FS22 Mods Safely and Effectively
Installing FS22 mods can seem intimidating at first, but with a few simple steps, you can have your new mods up and running in no time. Gamersmods provides a comprehensive FAQ section and technical support to help you with the installation process. Whether you're a seasoned veteran or new to modding, you'll find the information you need to get started.
Final Thoughts
In conclusion, if you're looking to take your Farming Simulator 22 experience to the next level, be sure to check out Gamersmods. With a vast library of mods, you'll find everything you need to enhance your gameplay. Whether you're looking for improved graphics, new features, or more realistic equipment, FS22 mods offer something for everyone. So why wait? Download your FS22 mods today and start playing!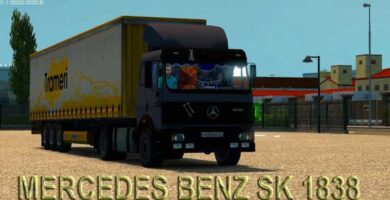 Cabins: Sleeper Cab, Euro Cab
Chassis: 4×2, 6×2, 6×4
Engines: 340-530 hp
Transmissions: 9,12,16
Tuning
Skins
Cables simulation
Update for v1.47
comecuca
Farming simulator 22 mods / Fs22 Cars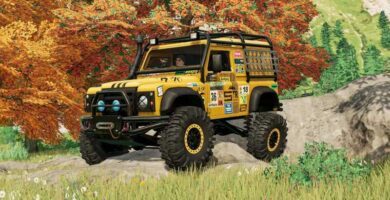 Land Rover Defender 90
Price: 42.000$
Max Speed: 135 KM/H
Dynamic Suspension
*Passenger Seat* (Kubota DLC)
*Working Winch* (Platinum DLC)
Special Thanks To All Our Patreon Supporters:
Diamond level patrons
➣ Zac Johnson
Gold level patrons
➣ zombie killer3156
➣ Taurus CZ
➣ Andy Murdock
➣ Fluffy Boi
➣ Explorer Michael
➣ CornHub
➣ Jordan McDaniel
Silver level patrons
➣ Ferraridriver 488
➣ christian
➣ Max Landon
➣ Cristiano emanu costa
➣ Winny46
➣ TR
➣ Daniel Weiss
➣ Tom
➣ Peterray1312
➣ Lucas Etzler
➣ Vaidas Drulia
➣ Brian O'Michelin
➣ Nathan Hamilton
➣ Susann Beer
➣ Michael Grant Graves
➣ B Whalen
My GameSteam
Farming simulator 22 mods / Fs22 Cars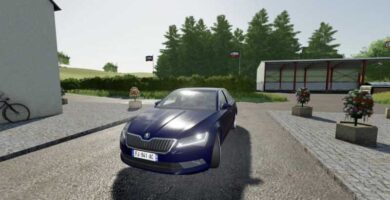 Hi to all and to all,
V2.1.0.0
Minor bug fix under G.E 9.0.3
Texture changes
Plate replacements (addition of more realism)
I offer you my conversion of my Skoda Superb which was released on FS19 some time ago:
In this mod you will find a choice of configurable colors for the exterior bodywork
The mod is 100% functional; The lights/engine work perfectly.
/!\ THE SKODA SUPERB IS LOCATED IN THE CAR CATEGORY /!\
PS: Do not criticize without knowing this is very dishonest 🙃
⛔ Any reconversion or re-upload is prohibited // Any modification(s) of the mod is STRICTLY PROHIBITED out of respect for my work.
🔹 My Discord server is open to everyone! The link is available on my Kingmods profile, do not hesitate to join it to have exclusive mods (reserved for subscribers)🔹
Enjoy 😁
BASTI1_VHE
BASTI1_VHE
Xande
Farming simulator 22 mods / Fs22 Cars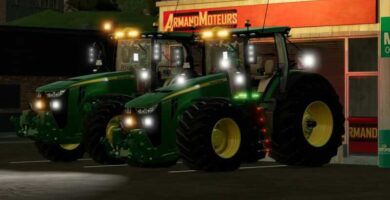 Price: $299,000
Power: 255-852 hp
Max. speed: 57 kph
8245R 255hp
8295R 305hp
8345R 355hp
8400R 400hp
8400R+TURBO 825hp
Required mods
Real Dashboard
EST agro
Farming simulator 22 mods / Fs22 Tractors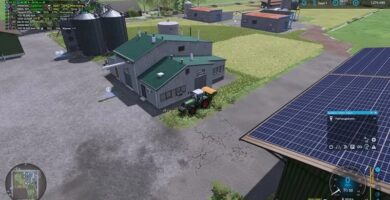 The map may also be set to other mod sites using my download link.
Map 2.6.2
– Map is Göweil Pack DLC ready
– The BGA's of the MAp now also accept sugar beet pulp bales
For the map I still recommend my mod packs.
Links and lots of information videos can also be found on my homepage
The map offers the following highlights, among others
fields then forest
On the NF march there are 79 fields
Sizes 0.8 ha up to 95 ha i the total area of all fields is just over 1000ha of which approx. 140ha are grassland
forest area
There are more than 150 hectares of forest with countless trees, most of which are also suitable for the wood harvester.
fruit
In addition to the standard fruits, rye, spelled, triticale and millet have been added to the map, and other filling types on the map are earth, sand and gravel
points of sale
If you harvest a lot, you also have to sell a lot. There are a total of 16 different points of sale at the NF Marsch 4fach
collectibles
On the NF Marsch Mod Map there are 3 different collectibles to search for.
This includes 10 pairs of Shelly shoes, 30 FA gold coins and 78 NF marching pallets for all the collectibles there
There are shelves at the vehicle dealer that fill up when the objects are found.
When finding all objects of a category there is also a bonus if someone cannot find all objects themselves
there are suitable help videos on my YouTube channel in which I show all the hiding spots for the shoes, coins and pallets.
empty spaces
There are at least 15 free areas on the map that will certainly be supplied with productions by me over the next few months
mod packs
In addition to the map download, there are 2 other downloads, namely the Fed Mods Pack and a Fed Production Pack which
I will present in another video, the two mods are first a summary of all my mods for the LS22
windmills
It is windy on the North Frisian Marsh and a long-term investment in wind turbines can be worthwhile.
The wind turbines installed on the map are practically only decoration and can be used after you have bought the land
has to be demolished and replaced by the NF Marsh Windmill
fruit symbols
All fruit symbols have been revised and no longer look so comic-heavy from missions
Many XXL missions thanks to the map size and the number of fields
ground textures
With a total of 18 different ground textures, everyone can design their yard and surroundings to suit them
Have fun on the map 🙂
Kind regards
FedAction
dani1803
FedAction LetsPlay
Farming simulator 22 mods / Fs22 Addons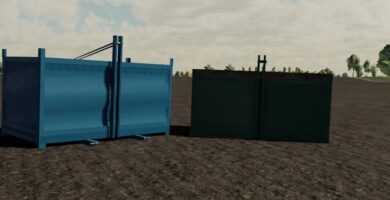 FS22 Transport box
this is the so-called "pen"
it has a lot of bugs as it my converts xD
box to be filled
capacity: 550-700
weight: 650kg
cost: 600
transport box
weight: 490kg
cost: 400
mod:Ostry
konwert:Ja
Farming simulator 22 mods / Fs22 Others
The technical equipment is made on the basis of MAZ 5551А2 New from Serega56. I took the kunga model from 19, translated the exterior, added lights and a couple of decals. I didn't bother with animation.
On the left there is a vehicle repair box with the corresponding icon, vehicles are repaired in 4 stages. The cost of one is $399. Vehicles are repaired automatically as soon as you approach the trigger. The second refueling trigger is located at the box on the starboard side, there is a corresponding icon. Before use, it is necessary to fill the container with a capacity of 5000 liters of fuel.
All authors in the moddesk are indicated, no one's honor and dignity are missed or omitted.
Serega56
Farming simulator 22 mods / Fs22 Trucks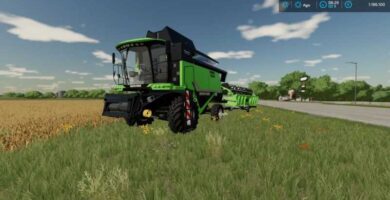 Hello guys!
Here we have an combine harvester, brand DEUTZ-FAHR.
It's the Deutz-Fahr 6095 HTS.
This mod is based in a combine of Farming Simulator 13.
Configurations:
·Engine Configuration:
1. HTS6095
2. HTS6095A
·Wheel brand:
1. Trelleborg
2. Michelin
·Wheel Configuration:
1. Estandar
2. Wide wheels
·Design 1:
1. Estandar
2. Topliner
·Design Hopper:
1. Estandar hopper
2. New hopper
Includes its own court and cart for transportation.
I hope you like it!!!!
P.D : It has some bugs that will be fixed in the next version.
AgroFarm
Farming simulator 22 mods / Fs22 Combines