American truck simulator mods / Sounds
Trucks Sound-N007 v02.10.2021 (1.41.x)
October 12, 2021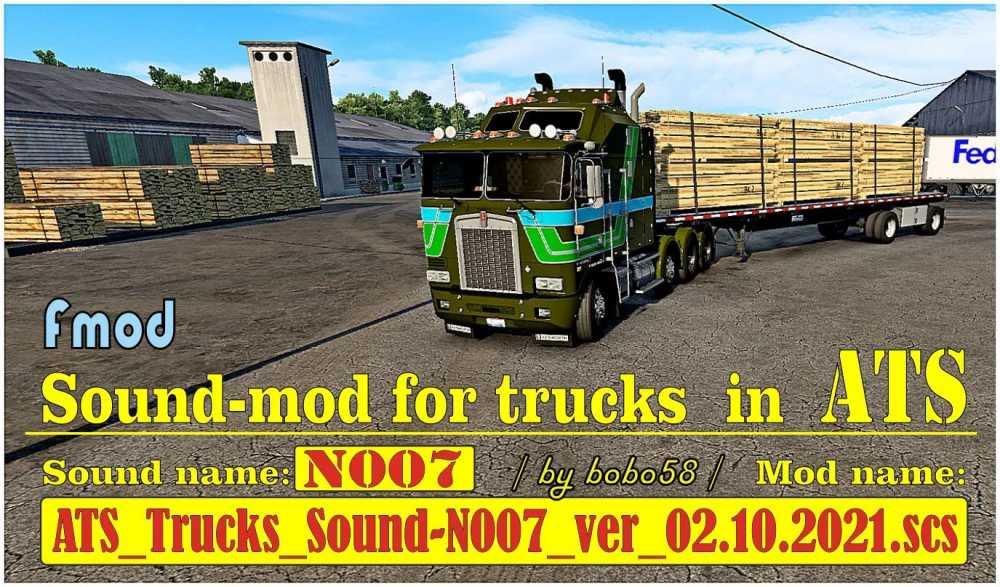 DESCRIPTION
ATTENTION! I made this mod for myself and maybe you do not need it.
– -= American Truck Simulator =- –
[Fmod] Sound mod: ( ATS_Trucks_Sound-N007_ver_02.10.2021.scs ) for trucks in ATS.
This sound-mod changes the sound of any default engines in all SCS trucks and other trucks for ATS.
(This sound mod changes the sound of SCS trucks and others trucks with any default engines in ATS.)
List of trucks in ATS by default (SCS):
– – – Freightliner Cascadia 2019
– – – Intnational Lonestar
– – – Intnational LT
– – – Kenworth W900
– – – Kenworth T680
– – – Mack Anthem
– – – Peterbilt 389
– – – Peterbilt 579
– – – Volvo VNL
– – – Western Star 49X
List of OTHER trucks in ATS:
– – – Freightliner FLC (XBS)
– – – Kenworth K100E (Overfloater)
– – – Kenworth T800 (GTM)
USER MANUAL:
ATTENTION! This mod do not change the game process.
You can use sound mod at any time, it's enough to leave the game and on/off or replace mod then continue the game.
To work correctly, use any, but only one mod from this series.
THE SOUNDS OF THIS MOD ARE NOT AGGRESSIVE, AND I RECOMMEND USING THIS MOD AT A MINIMUM, COMFORTABLE VOLUME LEVEL!
Authors:
bobo58