Cattle and crops mods / News
Update 1.0.2.12 13 Nov. 2020
November 15, 2020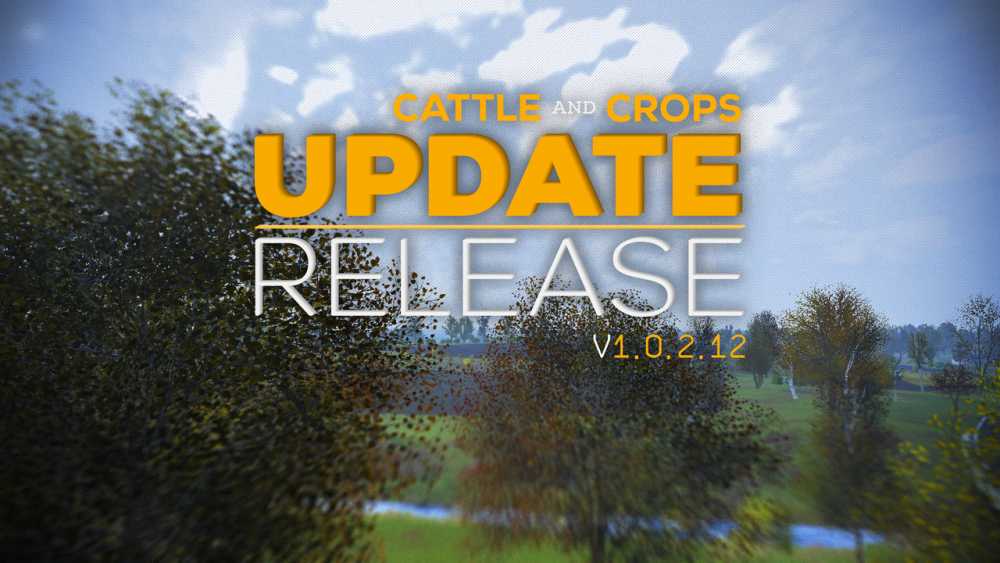 DESCRIPTION
In addition to numerous bug fixes, this update introduces a handful of new features to the game, which will especially improve your gaming experience inside the vehicle.
As you know, you or your employees can get stuck in very wet fields. Especially during harvesting when full loader wagons are moved. To make it more authentic, all tractors and harvesters have received differential lock options, which, in case your wheels start spinning, can be activated in the radial menu. Please note that with this change all-wheel drive is deactivated by default.
A new suspension system provides more dynamics and a significantly improved driving experience in the tractor and on the field. The seat and cab suspension ensure soft balancing and some trailing. In addition, the different soil types also provide different suspension characteristics. The option of whether the cab camera also moves with the suspension can be turned on and off in the gameplay settings.
In addition, a manual H-shift is now available, for which each gear can be bound in the controls assignments.
Furthermore, an option has been added that enables head tracking only in the vehicle. The financial statistics were extended by more time periods and the Polish translation was completely improved and repaired. Another statistic has been added to the field menu with the surface wetness , at the same time the ground condition and grain colors in the map visualization have been improved.
As always, a complete list of all changes can be found in the changelog.
Changelog
NEW
Differential locks added
NEW
Surface wetness is displayed in the field menu
NEW
Seat suspension in vehicles: Vehicle seats react dynamically to the ground. By default, the indoor camera moves with the suspension. This can be deactivated in the options menu under "Move camera with seat suspension".
NEW
Ground influence on driving behavior: the acre now has more influence on the vehicle suspension by being slightly more uneven. Different types of fields (plowed, cultivated, sown, …) have different intensities.
NEW
Manual H gear shift and clutch in vehicles, with pedal animation
NEW
Head tracking options: "Head tracking only in vehicles" and "Prevent camera movement by other devices"
NEW
Financial statistics: more time frames added
NEW
Polish translation completely overhauled
BUG FIX
Crash fixed when selling an implement that is located directly behind a tractor
BUG FIX
AI now drives to the harbor silos again in harvesting tasks
BUG FIX
The Lacotec is now getting ready for work and transport in tasks again
BUG FIX
Dropdown menus no longer leave any remaining parts when the corresponding window is closed while the dropdown was open
BUG FIX
AI fieldwork tasks now select the ridge marker and rotates the plow correctly after loading a savegame
BUG FIX
The Hammer Seed Units and the Lemken Saphir can now work stubble fields with a helper (direct drill seeding capability added)
BUG FIX
When crops are destroyed, the average BBCH value of the field is no longer reduced
BUG FIX
Field menu: bar colors of fruit and field type now correspond to those displayed in the minimap (differences in brightness will be fixed later)
BUG FIX
Scenario 4: Deutz no longer rolls onto the field and blocks the Tucano
BUG FIX
AI doesn't choose driving targets behind him as starting points
BUG FIX
When starting a fertilizer application, the full required amount of fertilizer plus 10% tolerance is purchased instead of only 1,000 liters
BUG FIX
AI no longer fertilizes more than it should when it passes over areas twice
BUG FIX
Corrected missing texts in finance menu
BUG FIX
Workers no longer block the entrance to field 22
BUG FIX
Travel speeds of the AI depending on the employee level corrected
BUG FIX
Fixed spelling error with spring wheat description in field menu
BUG FIX
Fixed spelling mistake in calendar key
BUG FIX
If a combine is completely emptied during the unloading process, the worker will be sent away correctly
BUG FIX
AI field work tasks have better savegame compatibility. Workers don't return to the starting point of the field anymore.Several workers on the same field are saved correctly now.
BUG FIX
AI worker starts plowing again
BUG FIX
Corrected several spelling and text errors in tutorials
BUG FIX
After loading the save game, the combine places swaths again. Note: it might look like the combine will not stop depositing. The amount of swath that has accumulated in it is (incorrectly) very large and needs to be unloaded. This is part of this fix and cannot be avoided. The unloading will stop eventually.
BUG FIX
Scenario 3: Feeding can be completed even if more than one bale was added to the MixKing
BUG FIX
Empty tanks are no longer displayed with 1 liter capacity
CHANGE
You can no longer lend employees during the HUD tutorial when you're required to hire them
CHANGE
Spawn location at the contractor is now further away from the shelter
CHANGE
AI drivers automatically open and close the trailer's top hatch on the field, e.g. with the Hawe SLW
CHANGE
In the vehicle shop menu, the selected purchase location is retained when the vehicle is purchased. Additionally, the selection is remembered when opening a new vehicle (as long as the menu is open – when it's closed the selection is reverted to the default value)
CHANGE
In the vehicle store menu, the model selection within a series is retained when the vehicle is purchased
CHANGE
Improved rent/lending notifications (end times added, warning category)
CHANGE
Rauch Axis cruise control level reduced to 12 km/h (7.5 mph)
Authors:
cattle and crops